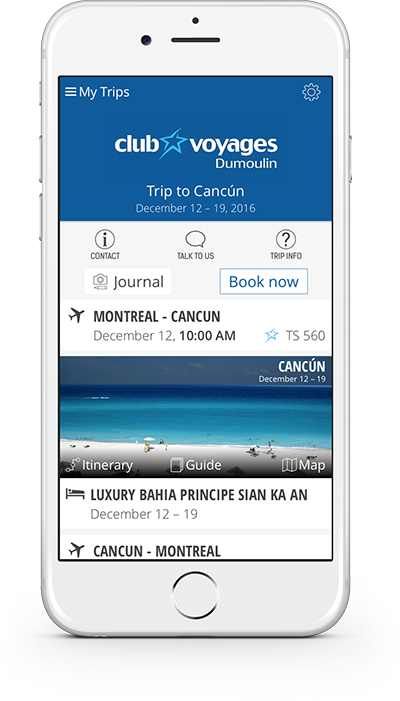 Club Voyages Dumoulin agencies launch their travel assistant app
Club Voyages Dumoulin has hand-picked mTrip to power their agency's brand new travel assistant app. This innovative tool will support their travelers during the entire course of their trip. With several useful and 100% offline features, Club Voyages Dumoulin's clients are in for a trip like no other.
As one of Quebec's foremost travel agencies, Club Voyages Dumoulin has worked tirelessly to become a top contender in the retail distribution sector of the travel industry. Since their start in 1994, they have made significant strides by working to create a stress-free travel planning process. With nine successful agencies and over 100 dedicated employees, it is safe to say that their emphasis on excellent customer service and enriched travel experience is the perfect combination.
Club Voyages Dumoulin set out to find the latest travel technologies, to provide their clients with the best the industry has to offer. With 85% of travelers bringing their smart phones on trips, their goal is to move past the booking stage and support their clients throughout their trip to create a smooth, relaxing, and pleasant travel experience. Furthermore to boost client satisfaction and loyalty, Club Voyages Dumoulin was also looking for a tool to drive more revenue from travel expenditures made after the initial booking, such as guided tours, activities, car rentals, and more.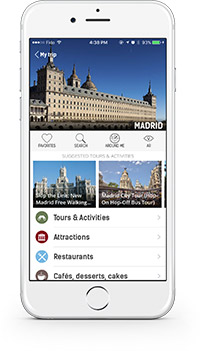 In order to achieve this, Club Voyages Dumoulin has chosen mTrip for their innovative mobile solution and fresh take on travel technology. Branded and published under the Club Voyages Dumoulin identity, they have taken their agency a step further and exceeded the competition by developing a mobile app to assist their clients throughout their stay. Clients will be able to access amazing travel features all while remaining 100% offline. After booking their trip, users will be able to look through the app and not only learn about their destination but also plan out their trip by creating an itinerary. The Trip Genius™ can also create an itinerary for you based on your personal preferences. For a stress-free airport experience, use the app to receive flight alerts with real time updates on delays, gate changes, and baggage claim information. If you should need additional guidance before your trip and while you're abroad, contact the experienced agents at Club Voyages Dumoulin with the helpful In-App Messaging feature. Want to find some great attractions to visit at your destination? Check out user reviews, rates, and opening hours, before using the in-app map to direct you. Clients can even rent a car, or book a tour directly through the app. When you return from your trip, look back at all of your amazing experiences with the trip journal, and share it on Facebook for your friends and family to enjoy. The Club Voyages Dumoulin app will help you make the most out of your trip: before, during, and after!
mTrip will be presenting a session about mobility at the GBTA Convention, July...
Bridging the Gap between Traveler Experience and Travel Management