Spend your summer with Flora!
The Fribourg Region is located in Western Switzerland and is known for its beautiful mountains, lakes and heritage. Living in a chalet in the medows of the Gruyeres is Flora, the official representative of the region!
Flora has represented the region for four years and loves everything it has to offer. She enjoys the outdoors, participates in local festivals and is always willing sharing her milk to make local delicacies such as cheese and chocolate.
So what are Flora's suggestions for the summer?
One of her favorite activities is hiking in the mountains. The Fribourg region has many hiking trails through alpine valleys created by glaciers, pastures and historial sites.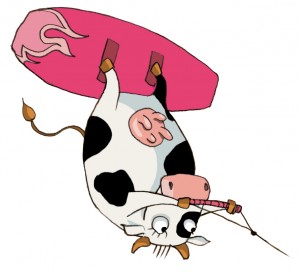 If you're looking to cool down, join Flora at Estavayer-le-Lac. Estavayer-le-Lac is one of many waterside towns in the region and is located on the shores of Lake Neuchatel. Some of Fribourgs other lakes include , Lake la Gruyere, Lake Schiffenen and Lake Murten.
Flora also enjoys some more laid back activities on the weekend such as following Romont's stained glass trail or urban golf.
What's urban golf? Well, it's a great family activity that combines sport, sightseeing and discovery as a 9 or 18 hole course guides you through the old town of Fribourg. Good luck beating Flora ;).
The Fribourg region has a lot to offer including festivals, delicious regional gastronomy, history and more . Download their mobile app for iPhone and Android to learn more.
Don't forget to check back in September for Flora's Autumn and Winter suggestions.
Images by Fribourg Region