China's bustling metropolis has grown up to become one of the most prosperous cities on the planet with a retail offering to match. Whether you're in the market for hi-tech gadgets or designer fashions or you want to peruse the many weird and wonderful goods from Chairman Mao memorabilia to calligraphy, silks, lanterns and trinkets in the colorful bazaars, shopping in Shanghai is an experience like no other.
Here are five of the best shopping destinations with wow factor…
Posh frocks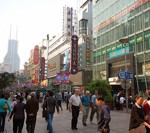 If you're looking for international brands and designer fashion labels, simply make your way to the thoroughly modern malls and boutiques crammed into the main shopping streets of Nanjing Road and Huaihai Road. You'll find finery by Armani, Prada, Calvin Klein, Dior, and Chanel in the shiny malls of Nanjing West Road and plenty of cafes and restaurants for a fuel stop. Bustling Huaihai Road is awash with more western fashions and the Bund, one of Shanghai's most popular tourist destinations, situated on the banks of the Huangpu River, is another hotspot where luxury brands, including Cartier and Dolce & Gabbana have flagship stores.
Indie chic
For retail therapy of an alternative kind, Taikang Road is the place to forage for funky silver jewelry and arty treasures. Here, you'll discover a vibrant hub of art studios and independent and quirky boutiques. Then wander down Tianzifang, a lane that runs off Taikang Road, where abandoned factories and warehouses have been turned into a hip art precinct. It's a fun place to view the work of Shanghai's young artists and hang out in the coffee bars, buy hot pancakes from street vendors and get a taste of local Shanghai life.
Electronic heaven
Gadget fiend? Go to Huaihai Road, home to Shanghai's Cyber Market, the biggest and best market for all things hi-tech, including digital cameras and camcorders, iPods, laptops, DVD players, and pretty much every gizmo and piece of software you can think of. However, if you want to get a good price, you must be prepared to haggle hard.
Curiosity shops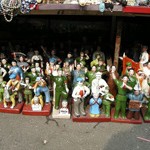 'Window shopping' doesn't get much more fun than at Curio Street on Dongtai Road where you can browse your way around an eclectic huddle of more than 125 small shops selling many things weird and very wonderful. Goodies include Chairman Mao memorabilia, ancient inks and paper, and curious 'antiques' – just don't expect them to be genuine! You'll also find traditional Chinese products such as porcelain, bronze wares and jade.
Tailor-made
Nifty with a sewing machine or fancy a custom-made dress or suit by some of China's best tailors? Make your way to Lujiabang Road where you'll find the vast, fabulous (and thankfully air-conditioned) South Bund Fabric Market. Pick from mountains of quality fabrics for your own creations or get clothing or home accessories custom-made by the resident tailors – they've got reams of samples for you to choose from but make sure you strike a hard bargain to get a fair price. Shanghai silk is also among the world's finest. To buy the best quality silks, head to the Shanghai Silk Building on Huaihai Road.
This post was written by Natalie Walsh, a travel expert who writes for Thomson Tailormade who offer luxury holidays to Shanghai.
Download mTrip's Shanghai Travel Guide to guide you around the city
Photo credits: stephenhanafin, Media Evolution, chinogypsie and jwalsh at Flickr