mTrip is seeking Android beta-testers!
UPDATE: Due to an overwhelming response, applications for mTrip beta-testing are now closed. Thank-you for your interest and stay tuned for our launch!
Attention Android users and mTrip fans! We are set to launch mTrip Travel Guides for smart phones running on Android, which means we need beta-testers to help us test out the app.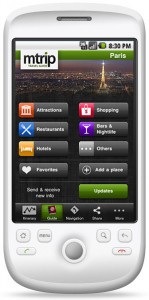 As a beta-tester, you will play an important role in the product's development and you will gain first access to cutting-edge technology not yet available to the public. As a beta-tester, you will put yourself in the shoes of a traveler and test out all the apps features on your phone, providing suggestions, feedback and comments on your experience with mTrip.
If you are interested in being a beta-tester, please email [email protected] with your contact information, the city you live in, the model of your phone and the version of Android you have.
Candidates must live in one of the cities mTrip sells travel guides in: Amsterdam, Barcelona, Berlin, Munich, London, Madrid, Moscow, Paris, Rome, Venice, Vienna, Istanbul, Dublin, Chicago, New York, San Francisco and Washington.
Please note that the beta-tester selection process depends on the model of your phone and not every candidate will be chosen.
For additional information on mTrip Travel Guides, please visit our website and check out our app available on iPhone and iPod Touch.
Thanks for your interest!