Build better customer relationships with in-app messaging
Providing an outstanding customer service is the best way to increase customer satisfaction and loyalty. mTrip has launched a new in-app messaging feature allowing customers to easily ask questions or send comments about their trip to their travel agency. For travel agencies, it provides a great opportunity to offer upgrades or additional services.
It does not require any additional setup or implementation: it's directly connected to the customer service email address, chat system or CRM.
Engaging messaging
In-app messaging is the easiest way for your client to get in touch with you. They can quickly send a question or comment about their bookings or destination and provide you feedback about their travel experience. You can also engage with them, offering upsells through rich messages including pictures and booking buttons.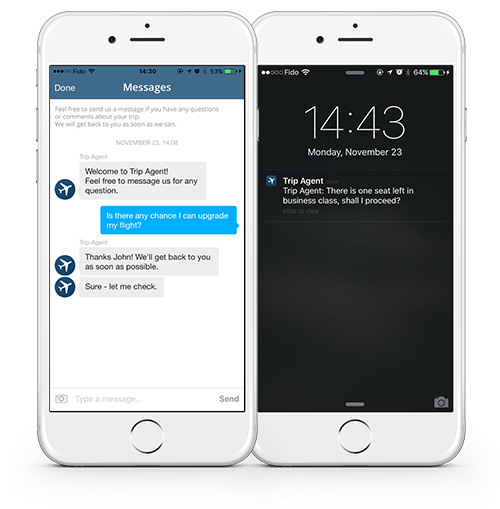 Built-in notifications
In-app notifications or push notifications appear to on your customers' device when new messages arrive to keep them informed and coming back to your app.
Syncronized across devices
Customers will be able to send and see messages across all their devices, whether it's their tablet or on their online itinerary. Messages sent and received and stay in sync, no matter what channel or device your customers use.
Works with your existing system
There's no need to learn a new chat tool or dedicate browser windows just to talk to customers. mTrip's messaging feature integrates directly with your email or with third party tools like Zendesk, HipChat, Slack, HelpScout, Twillio or your own CRM.