Winner of the 2015 Mobile Innovation in Travel Award
Innovator at the 2014 PhoCusWright Conference
Honoree at the Webby Awards
Gold ADDY Award by American Advertising Federation

Featured in Apple's 10 Ultimate Travel Apps
Featured in CNN's 50 Ultimate Travel Apps
WIRED Magazine: 9/10
Knowing that 65% of business travelers rank enjoyment as a top priority during their travels, mTrip offers a customized mobile solution for travel management companies where the needs of travel managers meet the expectations of business travelers. Our travel management apps not only assist the business traveler with their flights and accommodations, it also supports them at their destination by being 100% offline and integrating useful features like maps, navigation, destination guides, etc. The mobile application also includes a booking engine that helps TMCs capture all travel requests 24/7, respect the travel policy in place, facilitate reporting and provide full client assistance. mTrip's solution integrates with your GDS, itinerary management, expense management, and duty of care solution. In addition, the mobile app is published under your company's identity, and includes the unique brand of each corporate client. By providing a comprehensive and innovative mobile solution, your app will generate engaging and cost effective results. With over 3 million downloads and numerous awards, mTrip has gained trust, loyalty and recognition from the travel industry.
Increase Policy Compliance
IMPROVE Travel ExperIEnce
Highly Customizable Mobile Solutions for TMC
Published under your company identity
Integrates your clients branding
Customized features per client
Mobile apps work OFFLINE
Available on iOS, Android and HTML5
Available in 14 languages
Connects with your GDS, expense management and OBT

Enhance Business Traveler Experience
Flight details & mobile check-in
Real-time flight status & alerts
Confirmation emails parsing
Accommodation details
Offline travel documents
Visa requirements, weather, airport wait times
Offline destination maps & geolocation – street search
Offline directions by foot, subway, and car
Trip sharing, location sharing, airport directions, Uber integration
Increase revenue
Increase online bookings and reduce off-program bookings. The app can integrate a booking engine connected to your GDS or any third-party provider:
Flights, hotels, car rentals
Attraction tickets, city cards, tours, and activities
Airport transfers
Travel insurance, visa services, etc.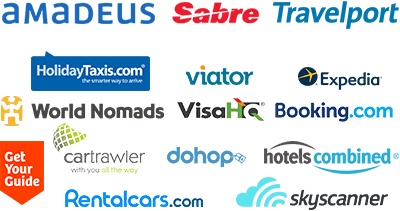 Improve Customer Service
Real-time information update
In-app messaging connected to your email, chat system or CRM
In-app satisfaction surveys
Improve Risk Management
Locate precisely any traveler with the real-time GPS Travel Locator. Learn More
Provide real time critical information and tips for sensitive destinations.
Easily integrate our mobile solution to your security or duty of care providers.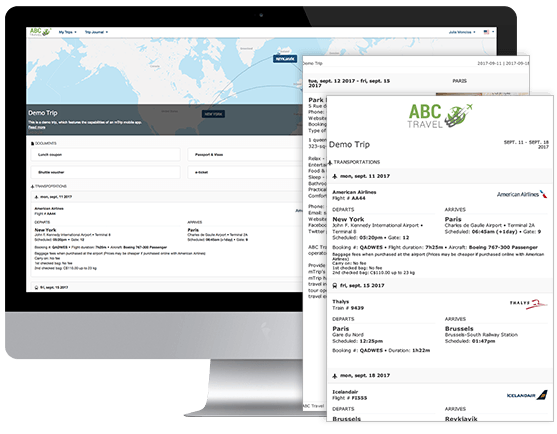 Document Delivery
Itinerary management
Automated email itineraries
Itinerary backup provided in PDF
Online travel dashboard
Travel documents available on the mobile app
Custom documents and online branding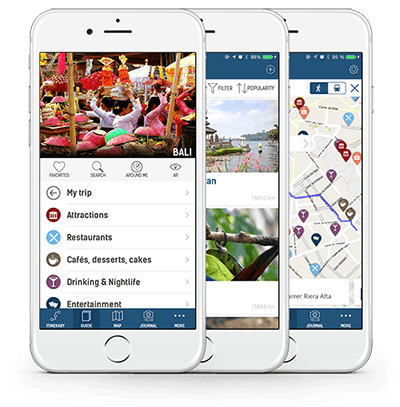 Offline Destination Guides
Extensive travel guides with over 900 destinations worldwide
Attractions, restaurants, nightlife, shopping, etc.
Offline maps and directions by foot, subway and car
Trip Genius™ suggests automatically optimized itineraries
Background and practical information about the trip destinations
Trip journal shared on social networks
Augmented reality, nearby places, postcards, and more

It would have been a much longer and more expensive launch had we not partnered with mTrip. A great product for our needs.
Laura Smart Fitch VP of Customer Experience – ACIS