TRAVEL WITH YOUR PERSONAL TOUR GUIDE!
Have mTrip create your most personalized itinerary from a travel directory of thousands of tourist attractions with ratings, reviews, descriptions, and pictures. Trying to find your way? Have mTrip locate you and display your best route, offline. Want to see your destination in mixed reality? Use augmented reality to get a heightened view. Having fun on your travels? Create postcards and send them via Facebook and email!
OPTIMIZED TRIP ITINERARY
Automatically create a personalized trip itinerary with the Trip Genius™ tool. This unique technology is made available only with mTrip on your iPad, iPhone or Android.
Have the Trip Genius™ build your most personalized trip itinerary based on your trip dates, geographical location, travel interests, opening hours of tourist attractions, and ratings from other travelers.
Manually build your trip itinerary with all of the places that you already know you want to visit. Have the Trip Genius™ fill in the blanks!
Automatically re-organize your itinerary with the Smart Order tool. Find your optimal schedule, based on the location of each place you plan on visiting.
Add, switch around or remove attractions from your itinerary at any time.
100% OFFLINE – No Roaming charges
EASY NAVIGATION & DIRECTIONS AT DESTINATION
Have mTrip find your best route to and from each destination, by foot or by subway. This feature is also available on your iPad!
Have the map locate you, and display any points of interest that are around you.
No internet connection required
TRAVEL GUIDES WITH THOUSANDS OF ATTRACTIONS
Get the gist on tons of museums, restaurants, bars, shopping places, hotels and more in the travel guide
Know the opening hours, contact info, and even review the prices in your home currency. See descriptions, ratings, reviews, and pictures of tourist attractions.
Submit and receive unlimited free updates on your iPhone, iPad & Android.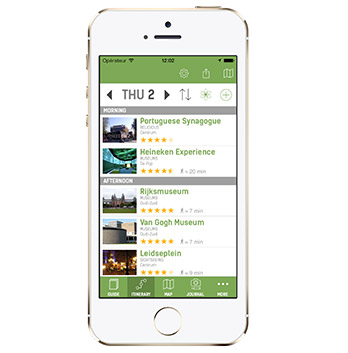 TRAVEL THROUGH AUGMENTED REALITY!
Display your surroundings in augmented reality, simply by looking through the lens of your iPhone, iPad or Android
Get a visual of all the museums, monuments, shopping, and restaurants in your area
Display the rating and distance of each tourist attraction
The most exciting, informative, and personalized way to visit a destination!
TRIP JOURNAL & PHOTO SHARING
Send personalized postcards of attractions to friends and family via Facebook or email
Add your own ratings, reviews, and updates to any place in the travel guide, and share them with other travelers
Unlimited sharing is free and there are no roaming fees
Where can I get the mTrip Travel Guides?
mTrip Travel Guides are available from the App Store for iPhone/iPod Touch/iPad and Google Play for Android. Each travel guide is sold separately per city.
Are there any roaming charges associated with using mTrip Travel Guides?
There are no roaming charges associated with using the travel guide. When you have access to a WiFi connection (at your hotel, a cafe or anywhere else that offers a free wireless connection), you can sync your pending updates. This means you will be able to display your updates and share them with other travelers at any time.
What makes mTrip the best travel guide for your next trip?
mTrip is the only travel guide available on iPhone, iPad, iPod Touch and Android, offering rich and interactive content with pictures, rating, reviews, a unique automated trip planner powered by a complex algorithm, an offline routing function as well as great sharing features.
Where does mTrip Travel Guides get all its travel information?
mTrip provides users with the highest quality, most exhaustive content via its partner Falk CIS, a major European travel guide content publisher. Falk publishes Marco Polo travel guides and Falk Maps and is also a publisher for Mairdumont Media, the largest German publishing group.
Can I add my own Points of Interest to the travel guide?
Yes. mTrip has a very comprehensive database of points of interest in each city but if you find a new or missing attraction, you can simply add a new one for free, to be shared with all other mTrip users.
Are updates free?
Yes, daily updates and content are free of charge. New content is added regularly by mTrip and other travelers. Simply tap "Update" in the application on your Android, iPhone, iPad or iPod.
What kinds of updates are made?
New Points of Interest: new POIs are both user-generated and added by the mTrip-editorial team
Operation hours/dates, prices, contact information, addresses: mTrip reviews each city and Point of Interest regularly to ensure users have the most up-to-date information possible.
New reviews and ratings: contributed by mTrip travelers
How often do you make updates to the travel guide?
Content is updated on a daily basis within the travel guide. Content updates are automatically uploaded to your app when a Wi-Fi connection is detected, which means there is no roaming required. This includes ratings, reviews, pictures and any other information.  mTrip also regularly publishes new features that users receive free of charge when the app is updated via the Apple App Store or Android App Store.
Can I suggest modifications?
Yes. You can make updates to any Point of Interest in the application. This includes hours of operation, addresses, pricing, ratings, reviews and pictures. You may also add your own Points of Interest to the app. All modifications are moderated by mTrip. User modifications are reviewed daily and updated to the app for sharing once approved.
How does mTrip automatically plan my trip?
mTrip Travel Guides uses a complex alogorithm to build a trip itinerary for you. The algorithm takes into account your trip dates, travel interests, dates/opening hours of attractions, and geographical location to create your most personalized trip.
How is my trip itinerary organized and how can I view it?
Your trip is organized in an itinerary which can be viewed by day, for the duration of your trip. Each day can also be viewed on your map . This means you can view your day's starting point, each point of interest you are visiting that day and the distance/directions between each.
Can I make changes to the trip itinerary if I change my mind?
Yes, of course! It's very simple to change your trip itinerary. Any or all Points of Interest in your itinerary can be deleted/moved/replaced and your trip will simply be re-generated with the "Trip Genius."
Does GPS work without an internet connection? Are there any roaming charges?
Yes, GPS works without any internet connection. There are no charges associated with using the map functions.
Can the map locate me and plan my route? Does the map give me directions?
The map geo-localizes you and will plan the simplest route to and from each location. Detailed directions by foot or by subway are available for each route. All of this is done offline, free of charge.