Eat like the locals in Istanbul
After visiting major historical and architectural sites such as the Blue Mosque, Hagia Sophia or the Topkapi Palace, Istanbul visitors should take a tip from the locals and head down to the water's edge of the Golden Horn. Although well-known for kebabs and lokum, Istanbul locals love their fish and head to water's edge to indulge.
On the western side of the Galata Bridge, connecting old Istanbul to modern Istanbul, those seeking an affordable and tasty lunch can hear the cries of the vendors calling Balik ekmek! Balik ekmek! Although seemingly exotic in Turkish, the call is a description: fish in bread.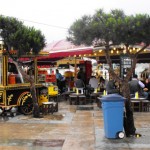 Fishing boats are anchored here every day, serving up fish sandwiches, made quickly by a team of cooks and servers on the deck of the boat. Despite the boat traffic and swells of the harbour water, these fish-obsessed chefs are making sandwiches for the hungry hoardes who need their seafood fix during the day. The interchangeable restaurants are side by side, each offering the traditional fish sandwich.
Travelers pay less than $5.00 (Turkish Lira) for a freshly grilled fish sandwich, cooked on open grills. The sandwich is garnished with salata (lettuce, onions and tomato) on crusty white bread. The sandwich is made even more tasty with a liberal dose of lemon juice, easily found in squeeze bottles or interspersed on small white plastic tables. The price includes a soft drink or bottle of water, a lively atmosphere, and street-focused entertainment of people-watching.
Turkey is a contender for inclusion in the European Union and locals were informed that the fish boat restos may have to go, due to the sanitary rules within the union. Currently the fish boats remain.
Galata Bridge, Istanbul Turkey
Restaurants open from 9am until sunset
Guest post by Waheeda Harris